Posted on 08 November 2018.
Editor's Note: This is the 36th in a series of stories researched during Don and Nancy Harrison's 50th Wedding Anniversary cruise from Sydney, Australia, to San Diego.  Previous installments of the series, which runs every Thursday, may be found by tapping the number of the installment:1, 2,3,4, 5, 6, 7,8, 9, 10, 11, 12,13, 14,15, 16, 17, 18,19,20, 21, 22, 23, 24, 25, 26, 27, 28, 29, 30, 31, 32, 33, 34, 35
By Donald H. Harrison
AT SEA, Aboard MS Maasdam — Thanks to assistant housekeeper Leila Aviles, a Filipina, we got to meet Damyan Damyanov, a Bulgarian who is the ship's provisions master; Tomas Kortenjen, a German who is the Maasdam's second executive chef in charge, and Fahmi, an Indonesian who is the laundry master. Each of the gentlemen to whom she introduced us runs a department on busy Deck 3, below the passenger quarters.
Our tour thus enabled us to see where food is stored after delivery to the ship; where it is prepared for eating; and where the soiled tablecloths, napkins, towels, crew clothing, and guest laundry all are cleaned, pressed and folded.
Welcoming us to the provisions area, Damyan Damyanov said his name is an East European name similar to Peter Peterson or John Johnson. He took us to an open area on the ship, or bay, on which massive doors were locked both on the port and starboard sides.  Depending on which way the ship is docked, one set of those doors will be opened at the beginning of a cruise and roughly 200 pallets, weighing a total of 100 tons, will be loaded through them onto the ship.  From there the contents of the pallets are transferred to different storage rooms.
Meat and fish go to a room with sub-freezing temperatures, there to stay until three days before they will be cooked.  At Cooking Day Minus Three they are transferred to a de-thawing room, which still is pretty cold, but warm enough to defrost to the satisfaction of the ship's butcher, who prepares the cuts of meat and fish in accordance with a pre-set menu devised in Seattle, Washington, where Holland America Line has its headquarters.
Damyanov told us that meat and fish are loaded aboard the ship at U.S. ports like Honolulu and San Diego, where they already have passed the U.S. Food and Drug Administration's testing standards.  Even though the lamb originated in New Zealand, where our ship had called at eight ports during this cruise, the lamb goes first to the United States for inspection, according to Damyanov.
There is another reason for purchasing meat in the United States, the provision master said.  Most of the passengers aboard Holland America's fleet of ships are from the United States and are used to American cuts of meat, prepared according to American tastes.
"Argentine beef tastes different from U.S. beef," Damyanov said.  "U.S. beef is corn fed, whereas Argentine beef is free range, and it is not that tender. Also, a lot of the cuts of beef that Americans like are not available in other countries; some don't even exist in Europe."
A husband and wife who were on our tour said that they had started with the packaged kosher meals, but they had switched to ship-prepared vegetarian meals because the kosher food was unpalatable.  Damyanov told them that this is important feedback.  He said that the ship orders the packaged kosher meals through a land-based provisions company, and that he will report to Seattle headquarters that passengers had found the meals unsatisfactory.  Such complaints could result in Holland America Line asking its provisioning company to find a different brand of kosher meals, he said.
Another cold storage room houses such dairy products as milk, cheeses, eggs, and yogurt – "everything that you keep in your refrigerator at home," Damyanov said.
Most of the provision master's helpers are Indonesians who are used to tropical weather.  Indicating the freezing rooms with a wave of his hand, he said, "as you can imagine, this is their favorite part of the job."
Turning serious, Damyanov indicated a locked, special compartment across a hallway from the others.  "We are the size of a small village so everything can happen, and that is why we are required to have this room," he said.
"That's their morgue," one of the passengers guessed.
"Yes," he responded. "It has security locks and at the moment I can't open it because I don't have the key.  But what is inside now are flowers for the florist, which is what we do when no one is inside.  We can hold three bodies, but the maximum we've ever had was two, which was very sad," he said. "Of course," he added, "we never store food items there."
We moved on to the fruit and vegetable room, which sometimes stocks local produce.  "Not everything has to come from the U.S.," he explained, but meat and fish always do.
In another storage compartment were boxes of canned goods, packaged goods (like dry cereals), and paper goods.  Damyanov pointed out that some of the unopened boxes had labels on them indicating that the boxes had been aboard during the last cruise and should be used ahead of the others. "Inventory is kept very carefully because based on this I am making my orders," he said.
"Every day the cooks are making their requests based on their menu for the next day, and then the requests go to the executive chef, who will check what they really need, scratching off some stuff and adding others," Damyanov said a bit later in the tour.  "Once that is done, it comes to me, and my guys get everything ready for the next day.  So, in this room right now, we have one pallet from the butcher, one pallet from the fish room, two pallets of fruits and vegetables, one pallet with dairy, and all together about ten pallets will go out per day."
We came to Compartment 18, which Damyanov identified as the "happy room" and which we Jews happily called the "Chai Room" because one could get "chai" on its contents.  "This room is opened only with one key and it only with me," Damyanov said.  "Even the captain cannot go inside without me."  As you may have guessed, the compartment was filled with cases of liquor of many types, ranging from some of the world's finest Scotch liquors to liqueurs and simple beers.  In addition to providing liquor to the bars in the passenger lounges, enough alcohol is ordered for the crew—whom Damyanov said are permitted to drink only wine and beer, but not hard liquor – and to the officers' bar, at which hard liquor is permissible.
Damyanov noted that 80 percent of the Indonesian crew aboard are Muslim, so do not drink alcohol, whereas Filipino crew have a preference for their country's San Miguel beer.
Conducted to the kitchen, our group was taken under the wing of Tomas Kortenjen, who promptly pointed out two very large automatic dish washing machines, which he said "work like a car wash.  You put the china in, and it comes out, clean, hot, dry, and sanitized."
There are 64 cooks in his department, who prepare food for the main dining room,  the Lido buffet, and the officer's mess.  Those cooks wearing red scarfs were in charge of their stations, which include appetizers, salads and soups, meats and fish, sauces, vegetables and potatoes, pastries and bread, and desserts, among others.
Kortenjen was quick to show us the pastry area, joking that "we have a calorie-free cruise here."  In addition to cakes on the menu, he said, "we prepare cakes for anniversaries and for birthdays."  On Fridays, the bakery-pastry department also prepares challahs, which are placed on a side table in the room where passengers conduct their own Erev Shabbat services.  The challahs (challot in Hebrew) are accompanied by a bottle of kosher wine and a tray of gefilte fish.  Nancy thanked Kortenjen for providing the challahs, and the other Jewish passengers in the group joined in.  The challahs really are quite good.
Taking us through the galley, Kortenjen said that the appetizers and other items on the menu all most be prepared in accordance with recipes set out by the culinary department of Holland America Line.  He explained that many passengers have sailed on other ships in the Holland America fleet and that they expect the same tastes as they experienced on other cruises.  "There are company standards, and we have to make sure that we follow those standards," he said.
He noted that passengers may request special diets, such as gluten free, lactose free, low sodium, vegetarian, and so forth.  Typically the orders from those passengers are collected one night before the dinner in question, and "when I get the orders, I divide them," allocating them to individual chefs.
Concerning low sodium diets, he said, "we reduce salt to a very minimum.  Sometimes people will want more seasoning, and they can add salt at their tables."
Each dinner menu has approximately seven suggested entrée choices, along with some standby entrées such as grilled salmon, broiled New York strip loin, and oven-roasted chicken.  How are the cooks able to estimate how many of each entrée will be ordered?  Kortenjen responded that data bases can help predict demand depending on the nationality of the passengers and the experience on similar itineraries at the same time of year.  Nevertheless, he said, sometimes adjustments have to be made, and that is one advantage of having two seating times for passengers' dinners.  If too many of one dish have been prepared for the first seating, they still can be served during the second seating.  If more of a certain dish is required, there is sufficient time between seatings to do the required cooking.
Before leaving the kitchen, we were shown the hot tray area, where food is kept at the desired temperatures while awaiting pick up by the assistant waiters.  We carefully passed our hands over the hot trays, confirming that the temperature would even have pleased Nancy's late father, Sam, who used to be critical of restaurants that served food too cold.  "I can guarantee you that when food leaves the kitchen, it is hot," Kortenjen told us proudly.
Having seen what happens before our meals, it also was interesting to see the laundry where the tablecloths and napkins, as well as sheets, pillowcases, towels, and crew uniforms are laundered each day.
Fahmi, the laundry master, showed us large industrial washing machines that take up to 400 pounds of laundry at a time, and automatic drying machines that not only dries the linens, but also presses and folds them.
"I wish I could have that in my home!" said one woman in our tour group.  Maybe she would if it came in a smaller version, I thought, but these machines would take up all the available space in an ordinary kitchen, and probably some space in an adjoining room.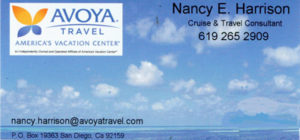 What happens to the water used in the washing machines? Fahmi was asked.  "It has to be recycled," he responded.  Each washing machine uses approximately 25 gallons of water.
"How long is the wash cycle?"
"About 40 minutes, or 45 minutes for towels, and more than one hour for napkins that are heavily soiled."
There are three dryers, each with a capacity for 100 pounds.  Drying takes approximately 45 minutes.
When washing passengers' laundry, a mark is made on the clothing so that it will be returned to the proper cabin.  "Can you imagine," asked Fahmi, "in one day we may have 2,000 laundry pieces, not counting the crew's."
The laundry has a staff of 16 people – very busy people.
*
Harrison is editor of San Diego Jewish World.  He may be contacted via [email protected]