At Bluestone Estate, Chad and Erin Vinelli have blended the past with the present.
They opened the wedding and special-event venue last June at 30A Refton Road, Willow Street, on the footprint of a 19th-century barn.
"We wanted to do something no one else in Lancaster was doing," Erin Vinelli says. "We wanted to provide a space that included everything people would want for their wedding or special event."
Erin Vinelli, the daughter of retired state Sen. Gib Armstrong and his wife Martha, grew up on a 110-acre farm where the barn is. The Armstrongs have painstakingly restored the farm's circa-1770 stone house, where they still live.
When the Armstrongs considered selling the property a few years ago, they contacted local Realtor Marilyn Berger, who convinced them not to.
"I talked myself out of a great commission," Berger laughs.
Instead, she suggested that the barn, built in 1822, would make a unique venue for weddings and events.
When the Armstrongs asked the Vinellis if they would be interested in creating the venue, the couple said yes immediately.
"We knew it was the answer for how to preserve the farm and keep the property but still make it viable," Erin Vinelli says.
Her husband, 43, a Millersville University industrial-technology graduate who works as a contractor, knew he could handle a lot of the renovations himself. If a task was beyond him, he had a wide network of industry professionals to tap.
Erin Vinelli, 42, a former special education teacher who holds bachelor's and master's degrees from James Madison University, knew her experience in entertaining would prove to be an asset for the project as well.
"I love to cook, and I've always entertained," Erin Vinelli says. "It's something I've always loved to do."
Complementary skills
The Vinellis met in 2004 when she bought a foreclosure property to fix up and live in and he sold her a kitchen for the property.
In hindsight, that seems like a hint about their future.
Bluestone Estate is the couple's fifth project together. Their previous projects include flipped properties and the construction of their home, which is just up the driveway from the venue.
The couple work well together, Chad Vinelli says, because each brings different skills.
"She is a people person, and she's creative," Chad Vinelli says. "I'm more of the hands-on worker."
Adds his wife, "Bluestone Estate is our biggest project, but we had no trouble working together on it. We kind of know how to stay out of each other's way and stay in our own lanes."
The transformation of a crumbling barn into a state-of-the-art special-events venue took about a year.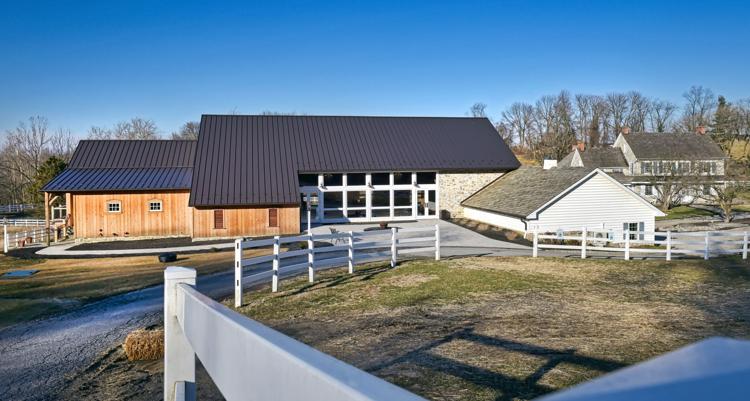 Working with architect Mark Myers, as well as a variety of subcontractors, Chad Vinelli says the project went smoothly but was not without its difficulties.
"Sometimes, I felt like it was one obstacle after another," he says.
Trying to save as much of the original stone walls as possible, Chad Vinelli soon discovered it wouldn't be easy. One wall collapsed as soon as cables holding it up were cut. Another wall fell over in the middle of the night.
He was able to salvage some of the original stone that had been quarried on the farm property nearly two centuries ago. New bluestone limestone was quarried on site, too.
Hardwood floors run throughout the 9,000-square-foot facility, to which the Vinellis added a ballroom with seating for 260, a bridal suite, a groom's suite and an outdoor patio overlooking a pond.
Pieces of the original barn floor were restored to create unique features, including bathroom counters, while the main room has 30-foot post-and-beam cathedral ceilings.
Envisioning a venue
"When I got married (on the family farm in 2007), I thought about all the things I wanted to have at my venue, and we tried to include all of those here," Erin Vinelli says.
The bridal suite includes an area for hair and makeup, a kitchenette, a private bath, a private deck and a spiral staircase leading up to a loft, while the groom's room features a large HD TV, a bar and a private bathroom.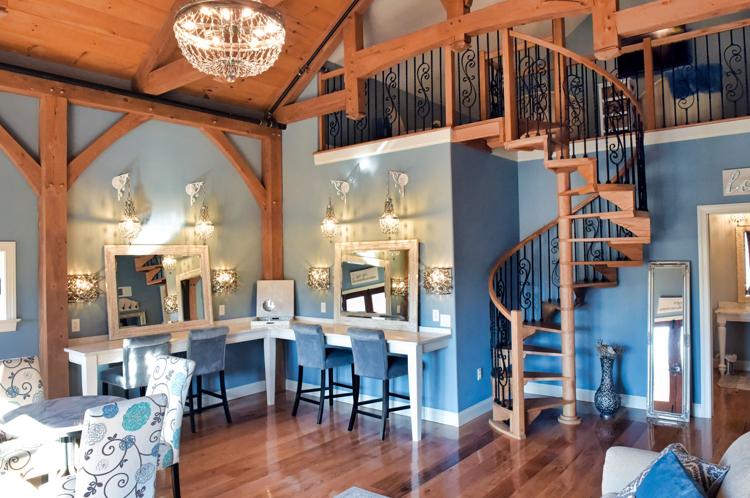 A former garage space on the side of the barn provides room for caterers to set up and includes a kitchen area.
The Vinellis installed geothermal heating and cooling throughout the property for a practical purpose and an aesthetic one.
"All of the units are inside the building, so you don't have big air conditioning units sitting outside," Chad Vinelli says. "You also don't have units kicking on in the middle of the ceremony."
Chad Vinelli says the renovations were all-consuming for a year, causing a little anxiety about meeting a deadline for their first wedding last June.
"I used to wake up in the middle of the night, panicked," he says. "But not once did I have second thoughts. I knew we could get it done."
It was close, but they did, finishing on June 15 and holding their first event the next day.
Chad Vinelli declined to disclose how much the renovations cost. A Strasburg Township building permit lists the cost of the construction work alone at $700,000.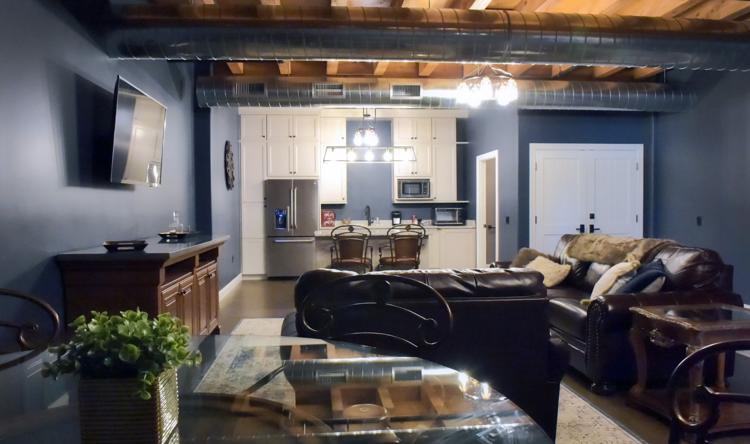 He says word about the venue is spreading and business is brisk.
"We are hosting our first wedding this year in March, and we have 30 weddings on the calendar," Erin Vinelli says. "We're booking into 2021."
The venue also hosts bridal and baby showers as well as corporate events.
About half of the booked events are from local couples, but the venue has drawn customers from Massachusetts, Colorado, Ohio, New Jersey and more.
"We're seeing a lot more people who are interested in coming to Lancaster for their wedding," Erin Vinelli says. "Lancaster is really becoming a hotspot."
Rates start at $8,000 for a wedding (with a $500 discount for weddings booked in 2019) and vary for other events.
Berger, the Realtor who planted the idea for Bluestone Estate, says she knew right away the barn would make a unique wedding venue.
"When I saw the property, I saw they had a barn that could be just beautiful," she says. "I suggested the idea for the venue and told them what they needed to do to get started."
The Vinellis aren't finished with Bluestone Estate. They hope to add an outdoor bar this year and have plans for other additions.
"We're looking at overnight accommodations down the road," Erin Vinelli says. "We talked about using a building on the farm and turning it into a honeymoon suite."
Erin Vinelli says they plan to tackle one big project a year and to make sure everything they do meets two goals: to preserve the farmland as much as possible and to create a business they can pass down to their children, ages 8 and 5.
"Even our parking lot is grass because we don't want this place to look too commercial," Erin Vinelli says. "It's important to us."
They also don't want it to be too trendy.
"We want to outlive the barn-wedding trend," Erin Vinelli says. "This is a barn, but it's not a barn. It's so much more."
Chad Vinelli says the couple has also considered building a dock for the pond as well as a gazebo.
"We're always thinking about how we can make it better," he says. "It's limitless what we can do here."