[ad_1]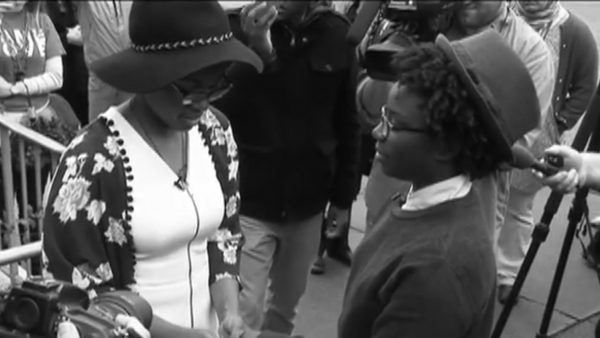 Tori and Shante` Wolfe-Sisson exchange vows outside of the Montgomery County Courthouse on February 9, 2015.
Tori and Shante` Wolfe-Sisson camped outside the Montgomery County Courthouse in 2015 to be one of the first same-sex couples to marry in Alabama. They made national news. On a recent Saturday afternoon, they browsed through old newspapers documenting their wedding day. They were on the cover of one sharing a kiss.
"I think that we have the New York Times and the International as well," Shante` says.
Tori Wolfe-Sisson and her wife donated mementos from their wedding day to the Invisible Histories Project. It's an initiative that aims to preserve the history of queer life in Alabama. It'll soon expand to Georgia and Mississippi. 
Wolfe-Sisson handed over pictures and t-shirts from protests over the years. Her wife donated the shoes she wore on her wedding day.
Wolfe-Sisson hopes those items chronicle the couple's role in the fight for LGBTQ rights in Alabama.
"If we don't control the narrative of who we are as people then we'll just become 'oh they were a couple, they did this historic thing' but not include the depth of us as individuals, the depth of our relationship to each other and to the community at large," she says.
Wolfe-Sisson is part of a network of LGBTQ Southerners who want to tell their own stories through the Invisible Histories Project. Queer History South connects researchers and archivists across 13 states to help preserve that history.
John Howard, author of "Men Like That: A Southern Queer History," has contributed his oral history collections to the project. Howard is from Mississippi, and he says decades ago, some people openly identified as LGBTQ. But many have been reluctant to show their true selves around certain people.
"It's not so much about being invisible, it's about selective visibility," he says. "To whom do I feel comfortable enough to share some of the more intimate details of my life."
Joshua Burford, lead organizer of Queer History South, says it's ironic that more queer people live in the South than any other part of the country, yet their stories aren't told.
"So if we have more LGBT people here than in New York, Chicago and LA then why are we not talking about them? Why don't we know more about who they are," he says. "So, it's very important that we get that narrative up where people can access it."
Burford says queer history in Alabama dates back nearly a century. The Invisible Histories Project has collected love letters, pictures and a diary from the 1920s.
Bayard Rustin was a gay black man who helped organize the Montgomery bus boycott and was instrumental in planning the march on Washington. Queer History South hopes to highlight historical figures like Rustin in classrooms and libraries.
"Because these people's narratives are sitting right there in front of us. Plus, kids want it; college students want it, high school kids want it," he says. 
Burford says the toughest part of documenting queer history is getting people to share materials. But some, like Wolfe-Sisson, who married in Montgomery, say offering mementos or newspaper clippings might encourage other same-sex couples to do the same. The women, who are 28 and 25, say they've helped pave the way for their generation of LGBTQ activists.
"There is not black queer women on the TV before us in the way that we've been on TV," Wolfe-Sisson says. "There was not a black queer, natural hair, two women on the cover of The New York Times until we were."
Organizers of Queer History South say they hope historic moments like this will be remembered for decades to come. 


[ad_2]

Source link