View(s):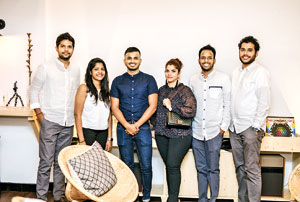 White Épisodes, a boutique fine art photography company specializing in Wedding Photography and Wedding film hosted the first session of Bridal Épisodes last week at the White Épisodes HQ located at Cambridge Terrace, Colombo 7.
Bridal Épisodes, an event aimed at fostering a bond between brides and grooms to be and their respective wedding partners, was an evening of cocktails and conversations with couples who would be tying the knot soon and industry experts in the field of photography, wedding film, bridal hair and make up and costume design.
Expressing his views on the event, Nipun Fernando, a Director of White Épisodes stated that the core idea behind this event was to create a comfortable environment for the brides and grooms to be on their wedding day. He further stated, "rather than working with a group of strangers, it is always better and comfortable for a couple to work with friends, which takes a way a huge portion of stress during the wedding."
Professionals in the wedding industry and couples to be married soon graced the event. The guests at the event were able to talk of their wedding plans and get tips and suggestions from the wedding partners present at the event. Moreover, they were able to mingle with other couples and share ideas and clarify concerns that they had regarding their upcoming nuptials.
Committed to building meaningful relationships within the Wedding Industry
Speaking of the future plans of the company, Shivani Gregory, the Client Relationship Manager of White Épisodes stated that this session of Bridal Épisodes was the pilot event and that in future that they plan of having frequent events with more wedding partners attending. She went on to state "we do not want to just be a wedding supplier but we want to build a meaningful relationship with our clients and other partners, which grows into beautiful friendships'.
The White Épisodes team comprises of photographers and cinematographers with over 6 years of experience in Wedding Photography and Film. The company only accepts a limited number of bookings for a month and works closely with other partners of the industry to innovate unique and trendy methods of making their client's special day memorable.