1. Kristen Bell and Dax Shepherd
Dax Shepherd and Kristen Bell, who have been together since 2007, had one of the most infamously low-key weddings of all time.
Forgoing all the wedding frills, the pair decided to shun all conventions when they tied the knot in a Beverly Hills courthouse in 2013.
The bride wore a black top and jeans, and the whole thing cost a cool $142 (that included gas to and from the courthouse). The reason behind the extra, extra laidback affair? Hectic work schedules.
Shepherd proudly proclaimed it to be "the worst wedding ever."
2. Joel Madden and Nicole Richie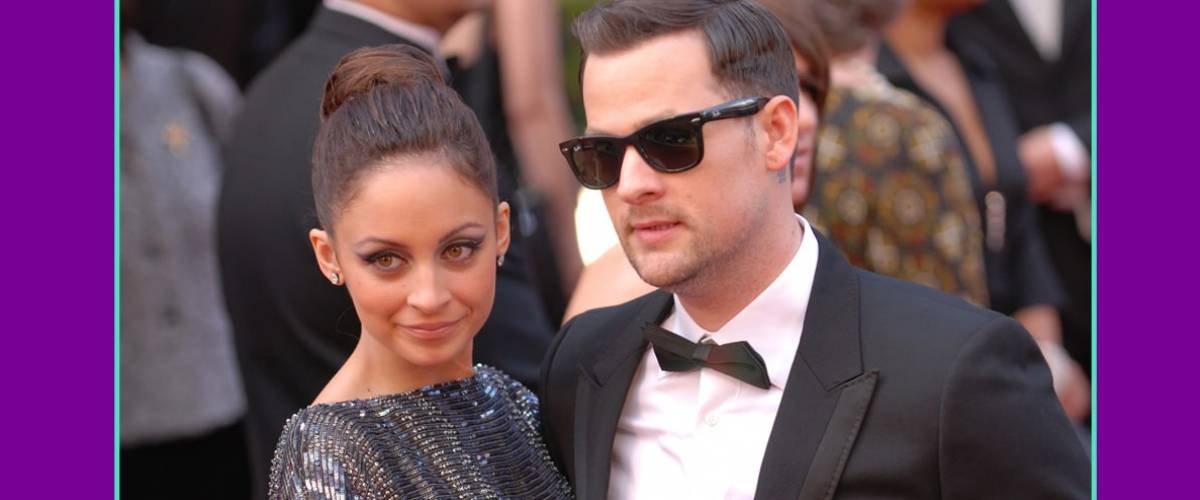 Richie and Madden tied the knot back in 2010 after a few years of dating and having two children together.
The pair wanted to have a wedding that was as unique as they are, and that's exactly what they did when they held a lavish affair on Lionel Richie's Los Angeles estate. The ceremony was officiated by part-time minister — full-time rapper — Rev Run of Run DMC, and their daughter, Harlow, served as flower girl.
The real star of the show? The live elephant that was paraded on to the estate. Apparently, elephants represented good luck and fortune to Nicole, so this was an extra lucky appearance. The couple also rode in on a horse and carriage.
The reception was reported to be French garden-themed, and a star-studded affair of 155 guests that included Gwen Stefani, Christina Aguilera and the Kardashians.
3. Dianna Agron and Winston Marshall
You might recognize Dianna Agron from "Glee," and Winston Marshall as the lead singer of indie-folk band Mumford and Sons.
Most weddings are usually a one-day affair — you have the ceremony in the afternoon, followed by a party in the evening.
Not the case when you're two musical superstars — that'd be far too pedestrian for them. Argon and Marshall instead held a three-day destination wedding extravaganza in Morocco.
And forget having Mom and Dad walk you down the aisle. Instead, the couple rode up to the altar on the backs of camels.
When you're a superstar, you can't settle for just one wedding dress. Argon had three wedding dresses (none of which were white). The most lavish gown was a $20,000 haute couture Valentino embroidered with flowers and a matching turban.
4. Sarah Jessica Parker and Matthew Broderick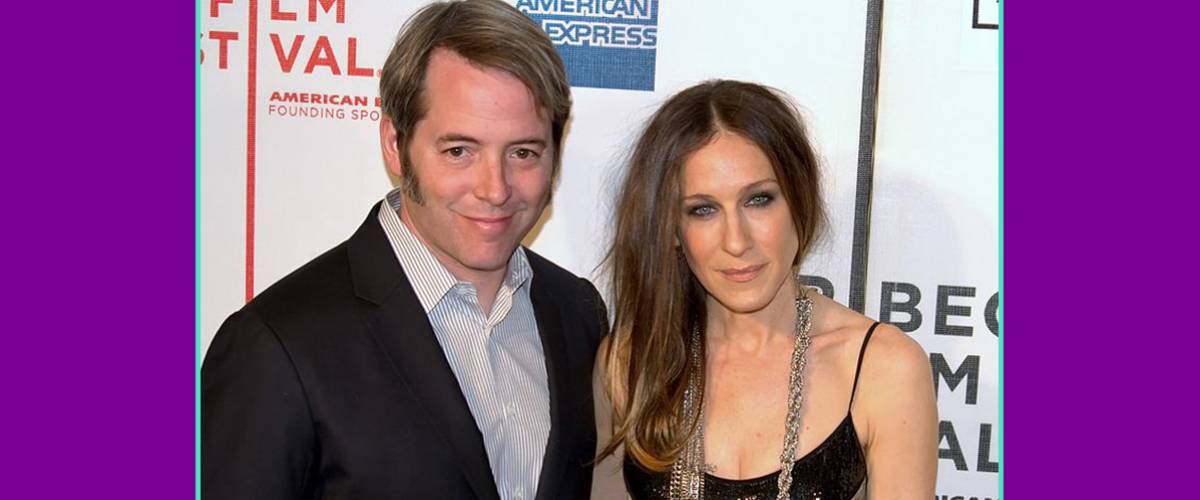 Broderick and Parker have been the gold standard for Hollywood couples who make us believe in everlasting love.
The funny pair met in 1991 and tied the knot in 1997 with a highly unconventional, secret wedding. Instead of invites and save-the-dates, they sent each of their 100 guests an address for a "cocktail party."
The address led them to Angel Orensanz Synagogue in Manhattan, where Parker and Broderick were waiting to exchange vows. Broderick's sister Jane, an ordained minister, performed the ceremony in front of a bunch of surprised guests.
The bride did not wear white. Instead, Parker wore a black chiffon cocktail dress that she bought off the rack from one of her favorite stores, claiming she was "too embarrassed" to go shopping for a wedding dress.
5. Keira Knightley and James Righton
Keira Knightley may have that classic English rose beauty, her wedding ceremony was anything but classic.
The nuptials were a low-key affair that took place in Mazan — a tiny town 12 miles outside of Marseilles, France, with just 11 guests in attendance.
German fashion icon Karl Lagerfeld offered to personally create a custom wedding gown for Knightley, but the bride opted for a dress that was a little more familiar.
Instead of a traditional wedding gown, Knightly wore a gray, above-the-knee Chanel dress that she'd worn a few times on the red carpet.
She dressed up her favorite dress with a Chanel bouclé jacket, black ballet flats and a crown made of twigs (in lieu of a veil).
Knightley glammed it up for the wedding reception, though. She donned a Valentino haute couture dress made of tiered lace that cost £50,000 GBP (around $64,000 U.S.) for her wedding in the woods.
6. Mary-Kate Olsen and Olivier Sarkozy Child star — turned fashion mogul — Mary-Kate Olsen wed Olivier Sarkozy in 2015. Sarkozy is a French banker and the half-brother of Nicolas Sarkozy — former president of France.
The couple have kept their relationship intensely private, so details on the wedding are sparse, but it was reportedly a laid back affair held in a private Manhattan residence with "bowls of cigarettes" on every table. Whatever happened at that wedding, it all sounds very French.
While the wedding may have been a no-frills affair, the bride's engagement ring was anything but understated. Sarkozy reportedly shelled out $81,000 for a vintage Cartier oval diamond with 16 sapphires.
7. Piper Perabo and Stephen Kay
Every little girl dreams of her big, white wedding dress.
Every little girl except Piper Perabo, star of "Coyote Ugly" and "Covert Affairs", who stunned guests on her wedding day in 2014 with a vibrant silver Michael Kors gown, matched with a stunning yellow veil.
The incredibly unique bride was joined by her husband, Stephen Kay, the director of "Covert Affairs", who suited up in a loose-fitting, dark blue denim suit.
After the ceremony, the recessional music was provided by a New Orleans style brass band playing big band music as they walked down the streets of New York City. It was certainly a colorful affair in every respect.
8. Britney Spears and Jason Alexander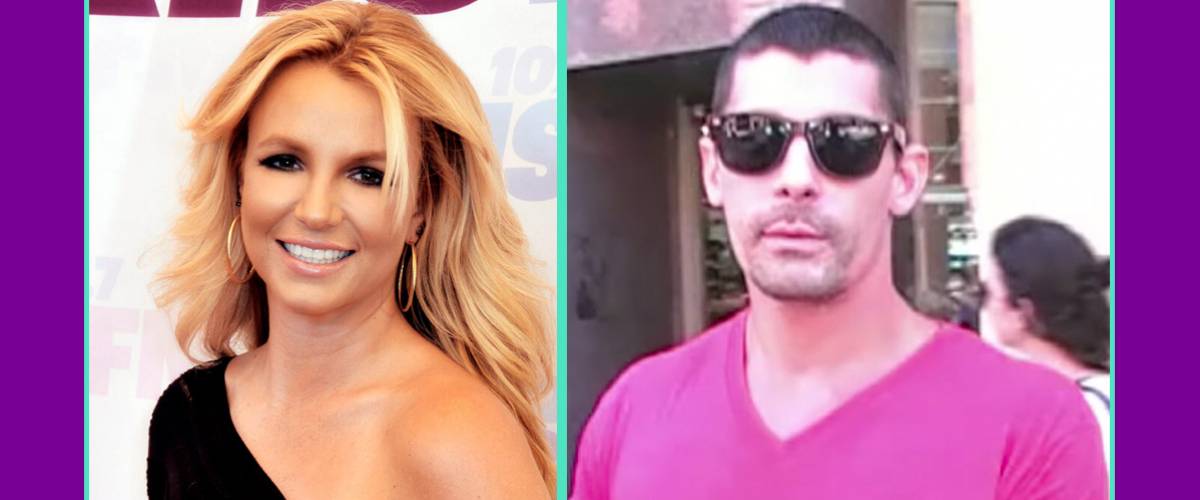 In 2004, Britney Spears was at the height of her career when she stunned her fans by revealing that she had a quickie marriage to her childhood friend, Jason Alexander.
During the wee hours of January 3rd, 2004 (at 5 a.m., to be exact), the couple rented a lime green stretch limousine and took a trip down to A Little White Wedding Chapel in Las Vegas to tie the knot. The bride wore a crop top, flip flops and a trucker hat.
The whole affair cost $70 for the marriage license and service.
Sadly, the chemistry fizzled before the weekend ended — Britney filed for an annulment 55 hours after saying "I do." It's one of the shortest marriages in Hollywood history.
9. Kevin Jonas and Sophie Turner
If you're concerned about keeping up with the Jonases when it comes to your own wedding, don't worry.
Sophie Turner and Nick Jonas, who wed in 2019, had an infamously casual wedding ceremony in Las Vegas after a night of partying.
The lovebirds, whose nuptials were captured on camera by Diplo, made their way down to Chapel L'Amour after the Billboard Music Awards and got hitched by an Elvis impersonator.
Witnesses included Nick Jonas and Turner's Game of Thrones co-star, Maisie Williams.
Mrs. Jonas didn't have time to pick up a wedding gown, so she walked down the aisle in a silk jumpsuit, a bouffant veil and wicker sandals.
The cherry on top? The couple exchanged candy Ring Pops at the altar.
10. Miley Cyrus and Liam Hemsworth
Miley Cyrus has made a name for herself as a wild child party girl, so it came as a surprise to many of her fans when she tied the knot in an incredibly low key ceremony at her home in Tennessee in late 2018.
Cyrus and Hemsworth, who dated on and off for ten years, decided to hold a "spur of the moment" wedding after their Malibu home was destroyed by wildfire.
The wedding was an entirely secret affair, where even her family and friends weren't aware that they were about to attend a wedding ceremony.
Instead of professional photographers, the bride enlisted her father and his ten-year-old Blackberry camera to snap some shots of the newlyweds.
Unfortunately, the fairy tale came to an end later that year, and the couple split, citing "irreconcilable differences."
11. Shenae Grimes and Josh Beech Shenae Beech/Twitter
Shenae Grimes may have put forward a squeaky clean image as a tween idol on "90210" and "Degrassi", but her wedding was anything but precious.
Grimes and Beech, who wed in 2015, decided to forgo the traditional roses and crystal table settings, and instead held a gothic-inspired wedding ceremony at an archaic Tudor estate.
The bride also put her own spin on the aisle music — it's reported that she walked to the altar while house music played in the background.
The truest showstopper was Grimes' unique wedding gown: a black Vera Wang wedding dress that came straight from the runway. It looks like black is the new black.
12. Emily Ratajkowski and Sebastian Bear-McClard @emrata / Instagram
When Emily Ratajkowksi posted news of her nuptials to social media, her fans initially thought she was pulling an early April Fool's prank.
Ratajkowski and Bear-McClard caught themselves in a whirlwind romance, having only dated for two months before tying the knot. By her own admission, Bear-McClard initially proposed with a paperclip, so it's easy to see why Ratajkowski's fans thought her quickie marriage was actually a hoax, at first.
The story goes that after a romantic night out, Bear-McClard popped the question, and the pair raced to city hall the following morning to do the deed.
The attire for the event was fashionably casual.
While some brides spend thousands of dollars fitting and tailoring the "perfect dress," Ratajkowski opted for comfort and functionality. Her "wedding dress" was a mustard yellow suit from Zara.
All told, the affair cost around $100.
14. Amber Tamblyn and David Cross
When Amber Tamblyn — famous for "Sisterhood of the Travelling Pants" — said "I do" to her long-time boyfriend David Cross ("Arrested Development"), she was barefooted and wearing a marigold sundress. She also kayaked herself to the altar. How's that for an entrance?
This kooky couple also put their own spin on the after-dinner dessert menu. Instead of buttercream or vanilla, the Tamblyn and Cross had a "cheesecake." As in, an actual wheel of cheese with teddy bear "bride and groom" statuettes.
Guests boogied down to tunes DJed by Questlove of The Roots, and the reception featured a private performance by indie band Yo La Tengo.
15. Marilyn Manson and Dita Von Teese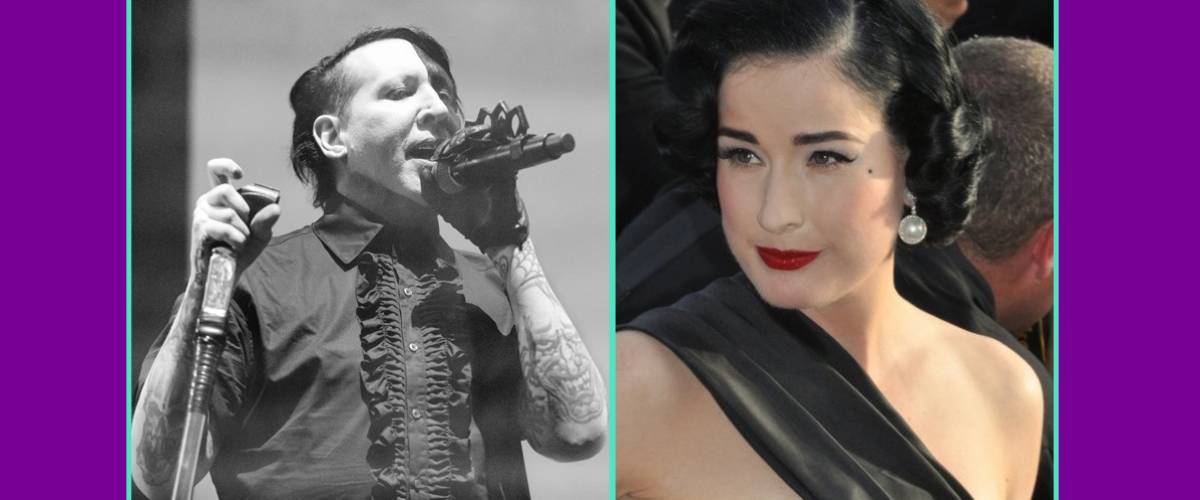 Marilyn Manson made a name for himself as a heavy metal icon, so it's no surprise that his 2005 nuptials to burlesque superstar Dita Von Teese would be anything but an over-the-top affair.
The three-day party took place in Tipperary, Ireland, at the home of controversial artist Gottfried Helnwein and involved skeet shooting, falconry and archery. What else would you expect from a shock rocker?
Instead of a religious or non-denominational ceremony, the bride and groom had a new age "alchemical procession". The nuptials were officiated by Chilean alternative film director Alejandro Jodorowsky, who wore a custom outfit from his 1973 film, "The Holy Mountain" — a towering stovepipe hat and platform shoes.
The spooky nuptials were extensively covered for the March 2006 edition of Vogue, shot by Steven Klein.
Sadly, the marriage lasted less than a year.
16. Kat Von D and Leafar Seyer
Some brides and grooms use their weddings as an opportunity to showcase various aspects of their unique personalities. Kat Von D (celebrity tattoo artist) and Leafar Seyer (lead singer of Prayer) did that and then some. The couple, who wed in 2018, turned their wedding into a glam goth spectacle.
The entirely red and black affair was held at Beverly Hills Hotel in 2018 — the event space was awash with red, from red curtains, red seating arrangements, thousands of red flower decorations and even a red grand piano where the bride serenaded her guests over dinner.
Thousands of custom-made candles floated from the ceiling, and the entirely vegan feast involved a cake shaped like a castle.
The bride wore red (of course), explaining that it was a symbol of "auspiciousness" in Eastern cultures.
Keeping with the spooky theme, the invitations were designed in the shape of a skull and personally calligraphed in Von D's signature script. The wedding favors were a limited edition black and gold lipstick from Von D's makeup collection.
And forget signing a guest book — guests who were lucky enough to attend the intimate affair got to sign their well-wishings to the bride and groom on a scroll and with a feather quill.
17. Kid Rock and Pamela Anderson Wikimedia Commons
This power couple, who wed in 2006, definitely set the bar high for the most untraditional wedding of all time.
While some brides choose to wear anything but white, Anderson decided against wearing anything at all. Really. During her wedding ceremony to Rock, the bride donned a white string bikini and a sailor cap. The less-than-bashful groom took some style tips from his betrothed, and went shirtless while wearing blue jeans and a baseball cap.
The entire ceremony took place on a yacht in St. Tropez in 2006, but wasn't legally binding until they tied the knot again in a courthouse chapel the following week.
Unfortunately, the two quickly pumped the breaks on the relationship, calling it quits 122 days later and literally racing to file for divorce (Rock beat Anderson to the courthouse by 53 minutes).