As Edmonds Mayor Dave Earling prepares to leave office after eight years serving at the helm of the city, he can't help but reflect on the parallels between his past life as a music professor and his two terms running a city of 42,000.
He points to a conductor's baton and a hammer positioned on top of a cabinet next to his desk in city hall, a reminder of how he has approached his job as the city's top administrator. "The baton is to try to get people to work together and the hammer is when they don't," Earling said with a smile.
Earling was first elected mayor in 2011, defeating former Snohomish County Councilmember Mike Cooper by a decisive margin. Cooper had been appointed by the Edmonds City Council to fill out the remaining term of Mayor Gary Haakenson, who resigned in 2010 to take a job with then-Snohomish County Executive Aaron Reardon.
Earling recalls that when he took office in late November 2011, he faced two major challenges: shoring up a city budget that had been buffeted by the Great Recession, and restoring staff morale surrounding Cooper's September 2011 firing of then-Human Resources Director Debi Humann. Cooper fired Humann as part of a controversy involving his then-executive assistant Kim Cole.
As an institution, the city "was really upset," Earling recalled. "People were really grumpy. There wasn't a lot of productive communication going on. I wanted to fix that."
Shortly after taking office in late November 2011, Earling terminated Cole's employment. He also reinstated Humann for the rest of the year, although the city council had voted to eliminate her position as part of what it described as a cost-cutting move in the 2012 budget. (Humann in 2014 was awarded more than $1 million in a civil suit against both the City of Edmonds and Cooper related to her firing.)
Earling then went to work to address the city's budget woes. In his first budget address to the council, in October 2012, the mayor called for a 2013 budget that included $1.5 million in spending cuts, including across-the-board reductions of 4.5 percent in each city department and a 5 percent reduction in staff. In his 2014 budget address, Earling announced that the city had "turned the corner" on those tough times and was able to add some staffing and increased services. In 2015, he ran unopposed for re-election to a second term.
As he prepares to leave office, the mayor says he is proud to have fulfilled what has been a recurring theme of his administration: "Leave it better than when you arrived. I can walk away from eight years here feeling that it (the budget) is much better than when I arrived as mayor," Earling said.
He again pointed to his previous work at Shoreline Community College, where he had been hired in 1978 to create the college's instrumental music program. Earling started with 30 students, and when he left the college 11 years later, the program had more than 200 students — and was the largest instrumental music program in the Northwest's community college system.
"I think it's been a pattern for me," Earling said. "I want to see things improve."
Earling is quick to state that part of the city's success can be attributed to the robust U.S. economy. With no big-box stores, Edmonds' budget is largely dependent on property tax revenues, which have steadily increased during Earling's time in office.
But he also noted the city's work, during his tenure, to "be more creative in the way that we generate revenue." In particular, he noted Edmonds' growing reputation as "a daytime destination." This has been fueled by an increasing number of businesses, along with the city's parks, beaches and other gathering places, which the city has worked to promote through various marketing initiatives.
As he ticked off a list of initiatives he is most proud of, Earling pointed to several that encourage day trips to Edmonds: The planned redevelopment of Civic Field into a spacious park that can accommodate numerous current and future events; improvements to the city's beachfront; and Edmonds' designation as the state's first Creative District, a nod to the city's robust arts culture.
"I'm hopeful that the next several administrations will stay with that (daytime destination) theme," Earling said.
Earling also named another major initiative that reflects the city's efforts to focus on growth beyond downtown, with an approved plan to redevelop the Edmonds stretch of Highway 99. The next step is to find funding required to implement that plan, projected to cost $179 million. The state so far has committed $10 million to the project, and Earling said the city — as part of its 2020 state legislative agenda — will be asking the legislature to reappropriate the $6.2 million designated for the now-defunct Waterfront Connector project to Highway 99 redevelopment.
When the 76-year-old Earling leaves office Dec. 31, it will mark the end of nearly three decades of governance work, starting with his election to Edmonds City Council in 1992. During his three terms on the council, he served as council president five times. In 2003, Earling, a self-described moderate Republican, ran for Snohomish County Executive, narrowly losing to Democrat Aaron Reardon. That was followed by two years focused on transportation and governance issues through the Cascadia Center, affiliated with the Discovery Institute think tank. Earling was then appointed by Gov. Christine Gregoire to the Central Puget Sound Growth Management Hearings Board. After serving five years of his six-year term, Earling left that board  to run for mayor.
Earling's interest in city government began after he moved from his job at Shoreline Community College into real estate. Earling, who had earned bachelor's and master's degrees in music performance from Eastern Washington University, had applied for the doctoral program at the University of Washington. But he and his wife Susan — who are celebrating their 50th wedding anniversary this month — were living in Edmonds and had started a family, and Earling was beginning to feel the burnout of his demanding teaching and performance schedule. Starting with a small Richmond Beach real estate company in 1978, he made $40,000 during his first year — a large sum compared to his Shoreline CC salary of about $23,000. He later moved to Edmonds Realty to work with owner Elmer Harris, and he and Susan bought the company from Harris in the late 1970s.
As a local business owner, Earling immersed himself in the Edmonds community, joining the Edmonds Chamber of Commerce and helping start the original Taste of Edmonds celebration  (the first event featured 10 local restaurants) and the downtown Edmonds Halloween trick-or-treat event. He applied for a vacancy on the Edmonds City Council but wasn't appointed, ran for election to the council and lost, then in 1991 ran again and won.
He said that one of his greatest joys in being mayor for the past eight years has been to see the shift in demographics to include younger families and the growth of the downtown business community, noting that when he started his real estate company the downtown area was dotted with empty storefronts.
During Earling's time on the council, he developed an interest in transportation issues and was appointed to the represent the city on both the Community Transit and Sound Transit boards — two roles he reprised while serving as mayor. This year, he chaired the Community Transit board and during his final meeting last week, the board served sun-shaped cookies inscribed with the phrase "82 degrees" — a nod to Earling's long-familiar phrase that "it's always 82 degrees and sunny in Edmonds."
While Earling has had sunny moments as mayor, he also shared a list of challenges. For starters? "One of the things I wished I'd done better was to work more closely long term with each of the (city) councils we had," the mayor said. "Inevitably in an elected atmosphere there's tension that goes on between the administration and the council."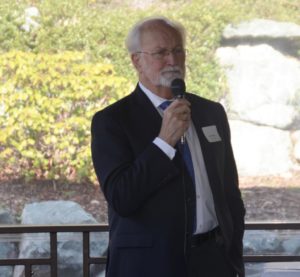 In addition, with his background in real estate, Earling said some people believed he would advocate during his tenure for taller buildings in downtown Edmonds — something he says he was not interested in doing. "I regret that I wasn't able to better communicate more quickly that there wasn't the intent of three-story buildings or four-story buildings," the mayor said.
He also discussed two other major issues that generated citizens' ire during his second term: the now-defunct Waterfront Connector project that would have provided an emergency access overpass from Edmonds Street onto the beach, and the city's initial attempt to develop a housing strategy.
Earling is unapologetic for supporting the connector — first recommended by a task force and then approved by the council — as a way to get across the railroad tracks if they are blocked and emergency access is required. "My main concern, honest to God, was public safety," Earling said. He added it was frustrating, after a two-year process that included what he saw as significant public involvement, to see the connector project "turned into a political process." Following intense community pressure that included hundreds of citizens rallying outside the council chambers, the council voted 4-3 last summer to reject the plan, with mayoral candidates Mike Nelson and Neil Tibbott voting against it.
"Somebody else is going to have to figure out how to solve the problem because someday there will be some sort of a catastrophe down there," Earling said.
Discussing another hot-button issue, he admitted that the city could have done a better job in its initial work to develop a housing strategy. While the original plan was designed to focus on ideas for providing a range of housing options in Edmonds, Earling said, it instead generated concerns about the city's intentions related to addressing homelessness. "I don't think we probably played it right," he said.
To address those citizen concerns, the city council instead created a Citizen Housing Commission to study options and come up with recommendations for council consideration by the end of 2020.
Earling said the connector project in particular points to the challenge city government faces in effectively engage community members when citizens don't have time to track a project until it is well on its way to implementation.
"How does government anticipate that sort of thing?" Earling asked. "I'm not sure you are ever going to be successful in solving the problem because of people's busy lives."
Other than spending time with his young grandchildren in Arizona and working out more at the gym — and going on a cruise with Susan — Earling said he has no firm plans yet for what he will do after leaving the mayor's office. He said that when he informed city staff earlier this year that he had decided not to seek a third term, "I told them not to dial back because there was a lot of work to do." The mayor said he has received a few phone calls with suggestions for possible next steps, but "I've told everyone that I'm going full bore until the end of the year. After that, I'll look around and see what's there.
"And I've still got a budget to do," Earling added, referring to the draft 2020 city budget now being considered by the council.
Asked if he had any advice for the next administration, which will be led in January by incoming Mayor Mike Nelson, Earling was quick to stress that Edmonds needs to continue its role as a regional leader — something he fostered in his work on the Community Transit and Sound Transit boards. "The community of Edmonds is a relatively small town of 42,000 people and we are a valuable player in the region," Earling said. "I hope that the mayor and council will continue to be regional thinkers in terms of how we continue to not only improve the community itself but how to fit it into the larger picture."
The community is invited to a farewell reception for Earling this Thursday, Dec. 12 from 4-6 p.m. at Edmonds Center for the Arts, 410 4th Ave. N. A short program will be presented at 5 p.m. and light snacks and beverages will be served.
— By Teresa Wippel